Search for Parts – Updated June 5th, 2020
Thank you for visiting our page and using us as your resource to look up the oil capacity of your Toyota Camry which is listed below by year. All capacities shown in quarts with a filter installed.
Before you scroll down, give us a brief moment of your time. Since you are here because you will change your oil soon, wouldn't you prefer to use the best synthetic oil to save your engine from costly repairs? Please check out our video on why our synthetic oil is better than all the rest. It was tested in a lab by a third party.
Get the best oil that will last for a year and be done with it! No hassles and frequent visits to the dealer or quick lube shop!
Click or press here to find out more!
This chart below shows the oil capacity for the 2007-2009 Camry for both 2.4 and 3.5L engines with filter.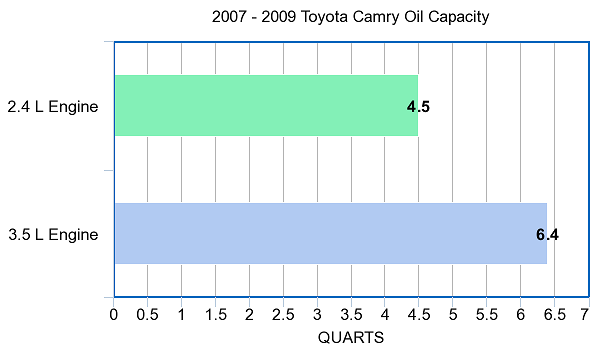 The following graph shows how much oil you need for your 2010-2011 Camry, all engine sizes with filter.
Information below for all Camrys between 2012-2017 (with the filter).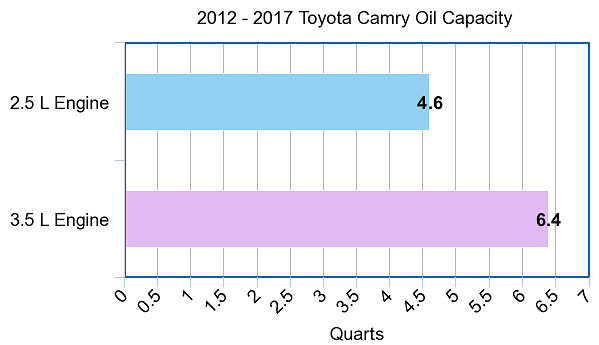 If you have a 2018 Toyota Camry, then the below graph will show you how much oil your engine will hold with filter.
Many other sites have different oil capacities listed for 2018, we have the source from the owner's manual below!
source: https://www.toyota.com/owners/resources/owners-manuals/camry/2018
Remember to buy an extra quart to top off your oil. After time, the oil level may drop due to various reasons. Check your oil level from time to time and top off with extra oil so you may want to buy an extra quart!
Thank you for visiting Search For Parts. We really appreciate it!