All products displayed on this search is for a 2018 DODGE TRUCKS DURANGO. Please click the "Add to Cart" button and select the suggested quantities on the following page. Important: Click the BACK BUTTON when finished selecting quantities for each item to return to this page until you are done with all products you would like to order. Then click Checkout after you have added the last item to the cart. Multiple oils or filters may be compatible with your vehicle below.
Recommended oil for my 2018 Durango
Product Name
Product Description
Capacities
Product
Signature Series 0W-40 Synthetic Motor Oil
- Best synthetic cleaning power and protection on the market for your 2018 Dodge Trucks Durango 6.4L
- Great for turbos and direct injection
- Give your engine bullet proof and rock solid protection for up to 25,000 miles, 700 hours of operation or one year, whichever comes first. Buy the best motor oil now for your Dodge Trucks Durango.
With filter 7 quarts After refill check oil level.

AZFQT-EA



Add To Cart
Add To Cart
Recommended coolants for my Dodge Trucks Durango
Product Name
Product Description
Capacities
Product
Passenger Car & Light Truck Antifreeze & Coolant
maximum protection for your 2018 Dodge Trucks Durango under extreme temperatures and operating conditions! Lasts up to 150,000 miles or five years! (whichever comes first)

ANTPC1G-EA



Add To Cart
Add To Cart
Low Toxicity Antifreeze and Engine Coolant
Lasts in your 2018 Dodge Trucks Durango for up to 150,000 miles or five years! (whichever comes first). Biodegradable!

ANT1G-EA



Add To Cart
Add To Cart
Amsoil products and synthetics will blow away the performance of regular or conventional oils for your vehicle. No other manufacturer has stepped up to the plate to demonstrate they have a better synthetic! Enjoy peace of mind with a better functioning engine under extreme conditions.
Related Products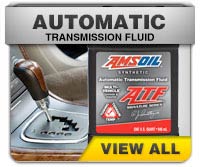 Replace your conventional oil with Amsoil synthetic motor oil. Change your oil and give your vehicle outstanding wear protection so that your engine will last much longer! Less harmful deposits and less oil consumption under extreme temperatures! Also you will get excellent performance when starting your car, truck, or van in extreme cold weather temperatures. Get rid of conventional oil which is not even close to synthetic oil. Attention Uber and Lyft drivers! Buy the best synthetic oil for your car which will give you less down time since you will have less repairs and not have to change your oil so frequently! More time and money for you!

If you're looking for another year, make or model instead of this 2018 DODGE TRUCKS DURANGO motor oil, try one of these similar models below. We try to keep one page for each model vehicle.
Support American oil and protect your car at the same time with Amsoil synthetic oil. Amsoil is high quality synthetic oil which is well known for it's longer intervals and that means less visits to the mechanic. Bullet proof your engine with the best synthetic motor oil on the market.
Not your vehicle?Search synthetic oil for my vehicle